Batch Cooker
Advantages: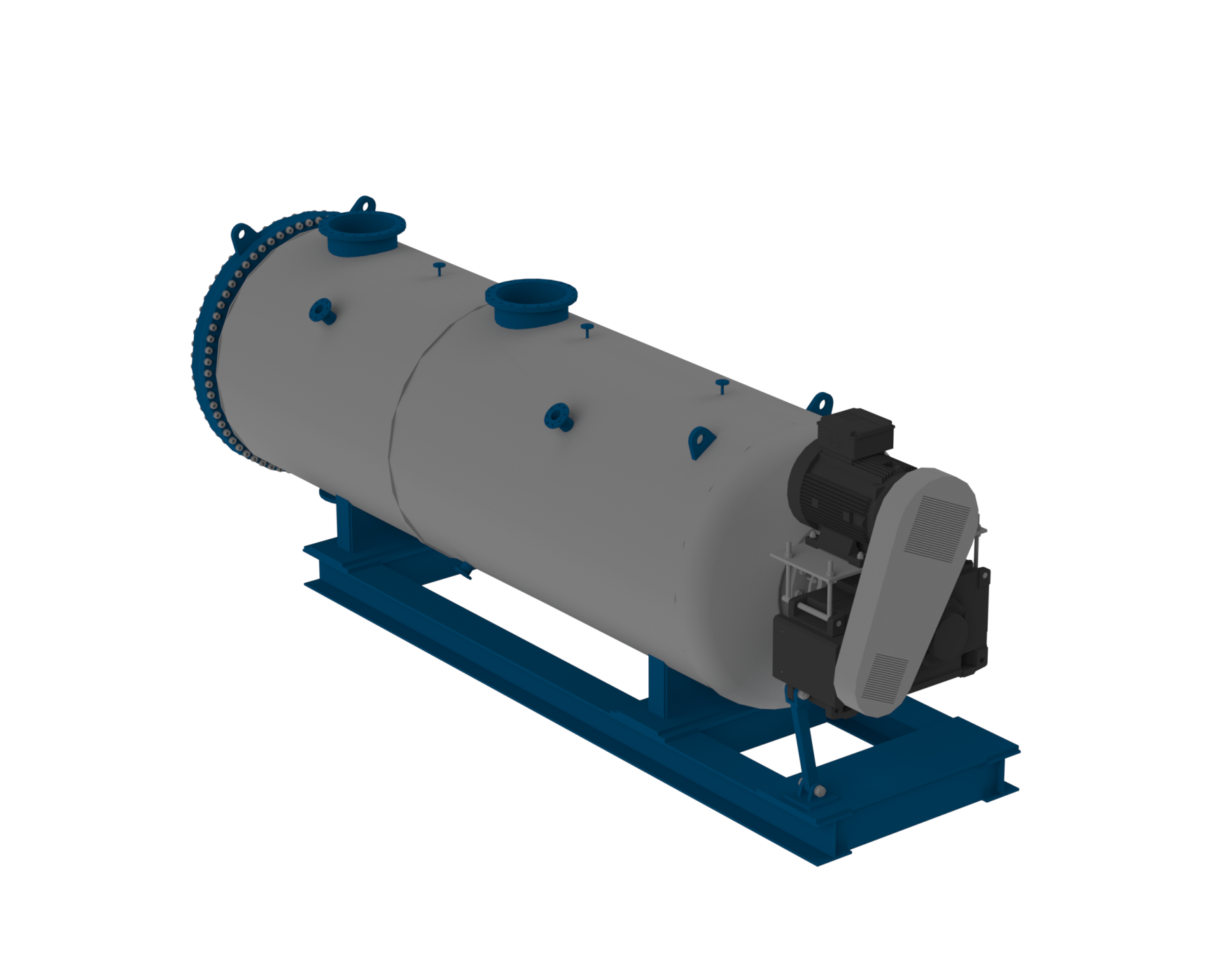 How does a batch cooker work - working principle
The batch cooker is a horizontal pressure vessel with a heating jacket. For thermal treatment, saturated steam is used. It consists of a steam-heated rotor and a stator. The outer shell of the machine is called a steam jacket, and it is, ensuring, an additional heating surface for cooking or drying animal by-products. The cooker rotor and steam jacket are operating at 10bar. While the pressurized chamber of the batch cooker is working at 5bar. Heat is transferred indirectly and directly from steam to the dried or cooked material, which is continuously mixed and moved along the machine with specially designed paddles welded to the rotor. The steam jacket is equipped with air vent nozzles. The rotor of the cooker is supported by heavy-duty bearings from both sides. Rendering cooker can be manufactured with and without pressure inside the body, fulfilling the 2009/2011 EU animal directive.
Characteristics of a high-efficiency batch cooker
A batch cooker is a common machine installed in poultry and meat dry rendering plants. The maximum capacity of the machine is less than 3 metric tons per hour. Rendering machines are used for batch cooking, pressure-cooking, hydrolysis, and drying of animal and poultry by-products like meat offal with bones, chicken offal, wet feathers, raw blood, and internal organs. A pressurized chamber can be used in sterilization of any material and for poultry feathers hydrolysis. The cooker can be used for processing products containing hair or wool. It is a machine to process large particles up to 50 mm in small batches. It can operate at a temperature of 133 °C and above for sterilization. A manual or automatic discharge gate can be mounted for pushing raw material out after cooking. For heat effectiveness, different design of agitator constructions is available depending on the material to be processed.
Before filling the pressure cooker, the material must be crushed. It has been approved for use in the food industry. Infected or dead animal bodies can be processed at high temperatures and high pressure. Machine design ensures high-quality performance which allows withstanding heavy loads. Low tear and wear secure its long lifetime. The agitator of the batch cooker can rotate in both directions, providing a mixing function and pushing of material out after the cooking process.
Raw material after processing in the cooker is ready for fat separation. TG-Machines provides tailor-made solutions for all types of materials in different processes. Each machine is subjected to detailed quality control. The pressure test is carried out before each shipment. Cookers for meat rendering are designed to the following PED, ASME, DNV, TUV, and GOST standards. Small footprint and easy installation of the machine give flexibility for extension of the capacity of the rendering plants.
The batch cooking process relies on pressure-cooking, hydrolysis, and drying of animal and poultry by-products. TG-Machines is selling different cooking systems for processing different types of material like cattle, poultry, meat, feathers, blood, or mixed offal and bones. Sterilization and hydrolyzation are done under constant pressure and temperature conditions. Processing takes place until the required moisture of the product is achieved. The batch dryer is easy to install in the meat rendering plants.
Batch cooker can be equipped with
Manual or automatic discharge gate for pushing material out after cooking
Vapor dome, filling dome
Fittings and safety valves
Steam frame and condensate trap system
Insulation and stainless steel cladding
Load cells and frame
Tailored to customer requirements


 If you require more information about the available solutions, please contact us via the contact form on the last tab, by e-mail: [email protected] or call us.
For more technical information, please download our technical data sheet. 
 
Application:
Download technical data sheet