Rendering Disc Cooker
Advantages: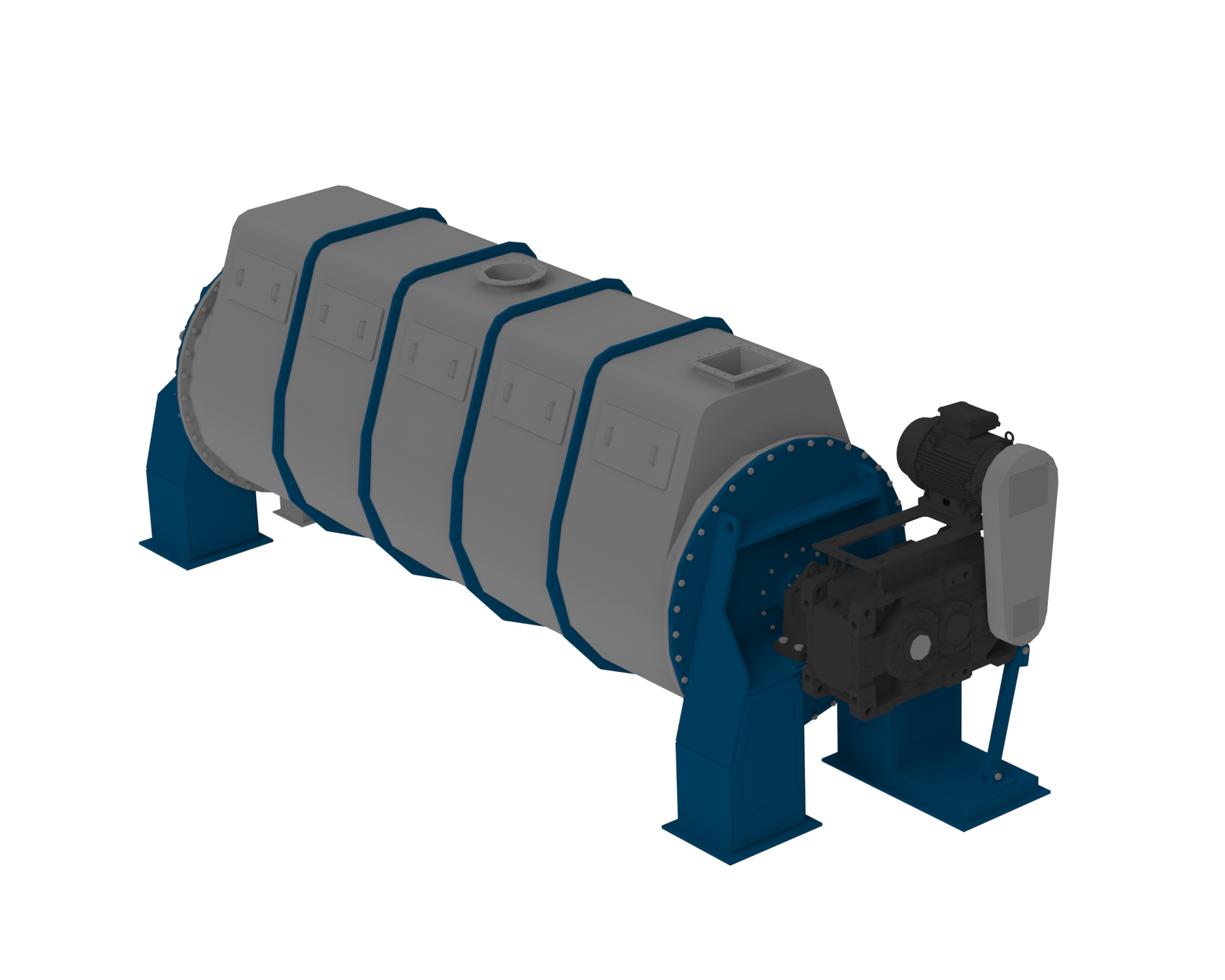 How does a cooker work - working principle
A cooker is a specially designed machine that is using saturated steam in the pressure range of 6 to 10 barG and temperatures from 158 °C - 180 °C. It is built from a rotor and a stator. The cooker rotor itself consists of a central shaft equipped with many double-wall steam-heated discs. The heat is transferred indirectly from steam to the dried material. Extra-capacity can be achieved by adding to the stator heated steam jacket. The dried material is continuously mixed and moved by the paddles along the machine. Scrapers ensure continuous mixing and are preventing material from sticking to the discs. The dried material is unloaded by a screw conveyor mounted at the end of the dryer. Contaminated vapor is flying out by a centrally placed vapor dome to the exhaust gases treatment system.
Drying technology has been invented and developed for fish meal. The service life of the cooking machine can reach almost 30 years. The horizontal, industrial cooker is still used in the industry as a heavy-duty and robust machine. Stainless steel design can guarantee a long utilization time.
Characteristics of a high-temperature cooker
The cooker is perfect for the continuous cooking of animal and poultry by-products. It is commonly used in high-temperature wet rendering plants where fat is removed after cooking. The thermal efficiency of the cooking can be increased by adding extra tallow to the process. The compact design of the discs guarantees the high efficiency of water vapor evaporation. Rotor and stator can be made from stainless or carbon steel. Cooker capacity is depending on water content and heat transfer of dried material. TG-Machines cooking equipment is available in different sizes. The required operating capacity of the rendering cooker can be achieved by changing the size of the machine. Rotary dryers undergo detailed quality control before the shipment. Machines are designed to the following PED, TUV, ASME, DNV, Lloyd's, and Bureau Veritas standards.
 
If you need more information about the available solutions, please contact us via the contact form on the last tab or by e-mail or call us.
For more technical information, please download our data sheet. 


Application:
Download technical data sheet